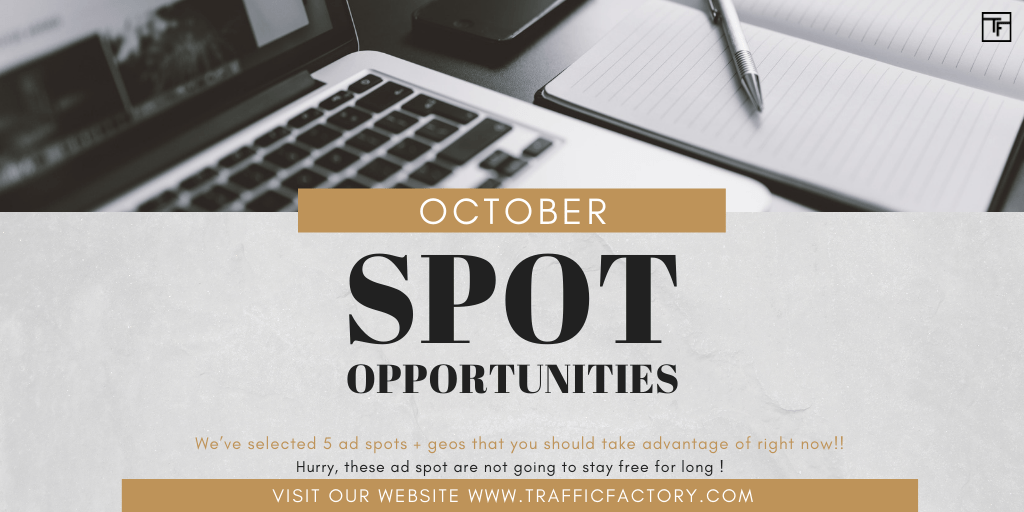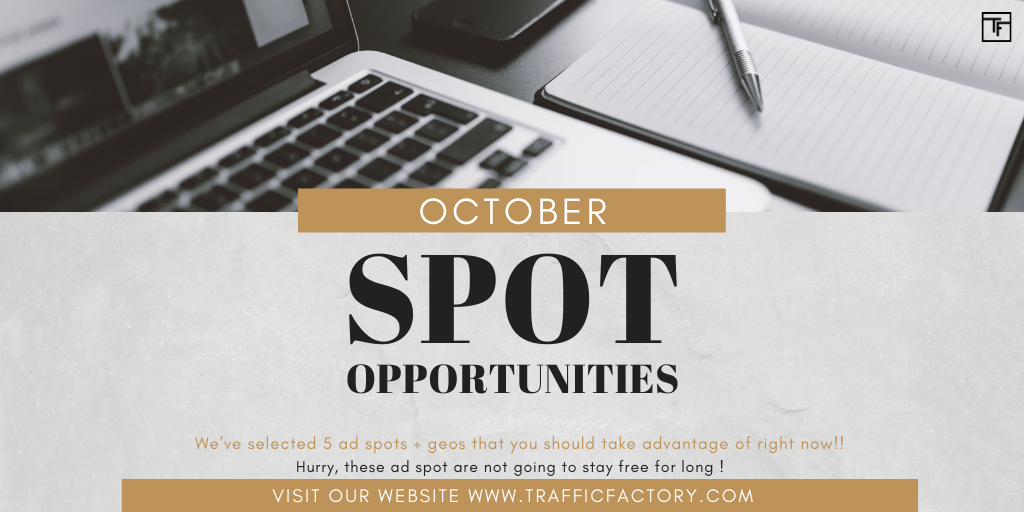 After a short break over the Summer months, we are back to advise our beloved advertisers of the current Spot Opportunities that you may not have taken advantage of. Indeed our fresh algorithm has now been running for close to 3 months with many changes to take into account.
What is a "Spot Opportunity"?
Traffic Factory's definition is an ad spot which potentially receives vast levels of traffic but currently has the least amount of competition. This is a combination of several factors – country, device and ad spot.
Each ad spot has a minimum bid price but the amount that you bid determines the position you obtain. Based on the principles of supply and demand, fluctuations in pricing differ due to the level of competition between advertisers for an ad spot.
So, for the run up to All Hallows , what do we have to offer?
Current Traffic Factory Spot Opportunities
| | |
| --- | --- |
| COUNTRY | AD SPOT |
| BRAZIL | POP-UNDER |
| ITALY | POP-UNDER |
| PROXY | MOBILE RECTANGLE |
| EGYPT | NATIVE |
| GERMANY | SQUARE |
A real mix of different countries to target with some frighteningly superb ad spots to take advantage of.
The POP-UNDER ad spot is one of the most in demand spots available across our network for all countries; so to find 2 countries with such an ad spot opportunity is rare to say the very least. It is no secret that BRAZIL is one of the largest sources of traffic for the Traffic Factory network. Add to this that Brazil currently holds one of the world's strongest emerging economies, if your promotion is right then this could potentially be an advertiser's goldmine.
ITALY currently offers advertisers an excellent reach to a lucrative audience via the same POP-UNDER ad spot. Indeed, Italy's economy had its tough moments in the last decade (Who didn't?) but the Italians are again starting to show us all a smile with an increase in their financial potential and a 10% increase of traffic on our network.
PROXY traffic is starting to become an advertisers favourite geo to target since its introduction to our network during the 2nd quarter of 2019. Many advertisers feel that this ad spot is of no relevance due to the VPN nature of this worldwide traffic. Indeed, certain blacklisted countries access the network via the use of different VPNs but in today's security conscious society, more and more users are systematically using VPN services for all their internet usage. The MOBILE RECTANGLE is arguably one of the networks strongest and most converting ad spots so be sure to run tests and prepare to be happily surprised byt the results that will follow!
The NATIVE ad spot was introduced early in 2019 and has continuously grown to become an advertisers "go-to" spot. To many, EGYPT could potentially be a surprise addition but trust us when we say that the traffic levels are HUGE… The minimum bids for this geo are low for all advertisers whatever their budget. With an average of over 13million daily native impressions for Egypt, you the advertiser are losing money by not investing on this geo.
Finally, GERMANY and the SQUARE ad spot currently holds an excellent opportunity for the Deutsche speaking advertiser. There is absolutely no need to reiterate the strength of the German economy nor the financial capabilities that the average GERMAN resident holds. The SQUARE ad spot is highly visible, being located just to the right to the users viewing content and dictates a significantly successful CTR. If your promotion holds a high conversion rate and is geared towards the DEUTSCHE market, then think no further as this will be perfect to gain potentially lucrative commissions and sales.
Are you looking for a particular geo and a particular ad spot? Or do you want further information to gain an insight into the possibilities of running a campaign in a particular country? Make the most of the knowledge held by our WORLDWIDE Account Managers and be sure to reach out to them to get that advantage over the competition.